With news breaking of President Obama launching an enquiry into the possible 
hacking
 of the recent US election many have wondered whether the US has been robbed of its first female presidential nominee. As it stands, after a long, hard fought and controversial race Hillary Clinton is no longer in the running to become the next leader of the free world and yet the ground she has broken is undeniable.
For centuries, a glass ceiling has shrouded women's career goals as we battle pay-gaps, sexual harassment and plain old disrespect in the workplace. Putting erroneous emails aside, with her historical presidential run, Hillary Clinton wielded young women worldwide with sledge hammers ready to break through these ceilings and take charge in uncharted territories.
Unlike their male counterparts, women in politics often receive higher levels of scrutiny from the press, most of it concerning their physical appearance and wardrobe. While some lament the fact that such women receive more attention for their looks rather than their policies, it is often the case that female politicians use their clothes to their advantage; to make a statement, to define their character or to draw attention to themselves in a male dominated arena and there is no shame in playing the fashion game. Just recently, Samantha Cameron the ever stylish wife of former British Prime Minister David Cameron launched her fashion label 
Cefinn
 making it clear that politics and fashion are not mutually exclusive forces.
​

Pantsuits

One clothing staple that any woman in the political sphere has in her wardrobe is a pantsuit. If you were to play a quick-fire word association game with the cue 'Hillary Clinton' we can bet you, your second answer would be 'pantsuits' (your first would be 'emails' but no one on god's green earth wants to hear about those anymore). More recently, we have seen Clinton forego the standard longline blazers in favour of matching sets featuring structured jackets with Mandarin collars. Whether you're a fan of this look or not one thing you can't disagree on is the fact that her tailoring is always impeccable and when it comes to first impressions Psychology suggests that tailoring plays a very important role. 

In 2011, psychologist Karen Pine conducted a study on men's business clothing. Results found that a man wearing a bespoke Made-To-Measure suit compared to a man wearing one Off-The-Rack is deemed to have more confidence and to be more successful. Few studies have been conducted for women's tailoring but the same knowledge applies.  Whilst it is true that fashion choices should not be placed up against matters such as immigration and national health, the public will be more inclined to listen to what you have to say if you display yourself as someone worth listening to. 
​
From left to right, Purple lapels at her concession speech. Image source: US Magazine, Hot pink Ralph Lauren gown at the Al Smith dinner. Image source: USA Today. White pantsuit at the DNC. Image sourced via Hollywood Reporter (Getty Images)
Colour
Every election season we see subtle instances of presidential candidates using colour to their advantage and in her war against the so-called 'basket of deplorables' Hillary armed herself with every pigment imaginable. Forgoing prints in favour of solid and vibrant hues, Clinton stood out for all the right reasons. Throughout her run, Hillary was plagued with criticisms concerning her standoffishness and cold demeanour. However, as the race ran on. the colouring of Hillary's outfits became brighter conveying a softer and more human side to her nature.
At the third and final presidential debate, she stepped out in a signature Ralph Lauren pantsuit in a dazzling shade of white. Research into colours and emotions suggests that bright colours such as white are "more pleasant, less arousing and less dominance-inducing   than  less bright  colours  such as  dark greys and blacks" (Patricia  Valdez  & Albert  Mehrabian, 1994).
The first time she wore a dress during the election, Hillary again turned to Ralph Lauren for a simple yet immaculate hot pink gown. Traditionally pink is associated with softness, delicacy and infancy and is also used to denote the female gender. However, a study conducted by Veronika Koller (2008) found that many now associate the colour pink with independence and postfeminist femininity – a strong statement considering that Hillary's run focused on appealing to minorities, particularly women of colour as well as the LGBTQ community.
​And this was not the last-time Hillary used colour in an impactful way. When she made her concession speech she wore purple. The significance of the colour for the suffragette movement coupled with the impact of her being the first female presidential nominee was not lost on many.
​

Kitten Heels
When the news hit that Theresa May was going to become Britain's second female prime minister the report was overshadowed by her shoes. She donned a pair of leopard print kitten heels and the media had a field day. May, who has never been shy about her fondness for footwear has since been branded a 'feminist in kitten heels' but many can't seem to jump on board with the 3-and-a-half-inch style. Even though 
Vogue
 has hailed kitten heels and boyfriend jeans as the ultimate cool girl outfit, amongst the masses, kitten heels are an acquired taste to say the least but women in politics just can't seem to get enough of them.
​Michelle Obama, Hillary Clinton and Condoleezza Rice all share May's enthusiasm for kitten heels and Psychologically speaking, the low-heeled shoe does seem to strike a perfect balance. They're low enough to provide a level of comfort necessary to keep up with the fast-paced world of politics yet high enough to attract positive attention and admiration. Recent Psychological research has shown that even when their feet are not visible women wearing heels are deemed to be more elegant than women wearing flat shoes (Guéguen, Stefan, & Renault, Fash (2016).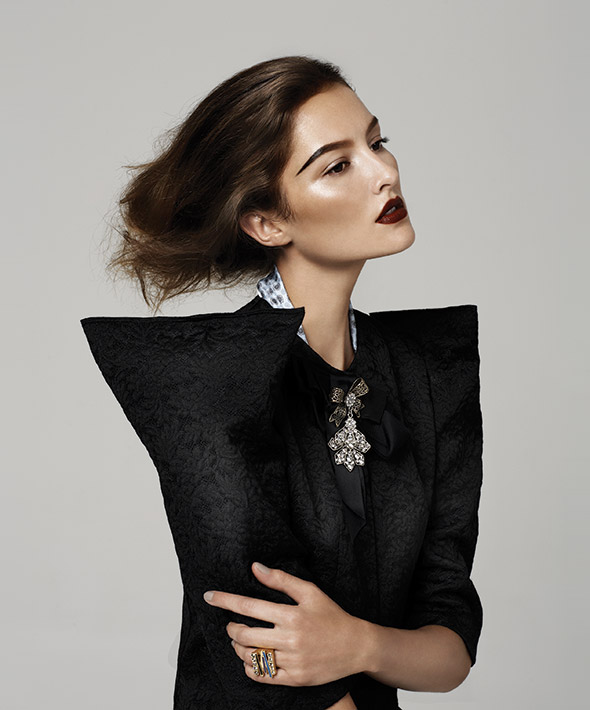 Shoulder pads

During World War II the epaulettes that graced the shoulders of soldiers manoeuvred their way into the fashion industry as women donned shoulder pads as symbol of solidarity with the brave fighters abroad as they contributed to the war effort at home. Although post-war women's fashion saw less uniformity and more cinched waists, shoulder pads made a huge come back in the 80s on the heels of the second wave of the feminist movement. In the 80s-movie classic Working Girl, Melanie Griffith's character dons larger than life shoulder pads to legitimise her new position as a respected business woman and thus the era of power dressing was born with designers such as Alexander McQueen and Dolce & Gabanna showcasing the style on the runway. In the 80s and during its revival in the early 21st century, shoulder pads were the clothing equivalent to ideology of 'leaning in' – taking charge and embodying power in male dominated industries.

With shoulder pads its very much a case of 'if you can't beat them – look like them'. Broad shoulders are typically associated with males, with studies showing that men with broad shoulders are not only perceived to be more masculine but they also possess higher testosterone levels (Kasperk et al, 1997). So, it's no surprise that shoulder pads were a favourite of Margret Thatcher – Britain's first female prime minister. Wearing shoulder pads ensured that Thatcher took up more space in any room she entered. The added association of the style with masculinity ensured that her gender did not lessen the amount of respect she commanded from those she encountered.  During the height of her career Thatcher's business attire consisted almost exclusively of shoulder padded tailored jackets in understated patterns or bold and solid colours which only enhanced the severity of her look and subsequently solidified her position as 'The Iron Lady'.
​
According to Donald Trump, this hacking scandal is without merit but who knows, come 2017 we may see a white pantsuit instead of a white combover in the oval office. One can only dream.