If you ask anyone in fashion 'Who is Fashion Week for?' they'll give you the same two-word answer: 'The Buyers' and to some extent that is true. However, with each season as Fashion Week becomes more and more consumer facing, with the advent of see now buy now, live posting and live streaming we're all being roped into the weird and wonderful bi-annual festivities. Like with anything that we're intensely exposed to there's a subsequent psychological impact and we'd be silly to think that the current Spring 2019 shows are not affecting us even in some implicit way.  
Michael Kors, Photo By: Sonny Vandevelde / Indigital.tv
Tome, Image Source: Vogue Runway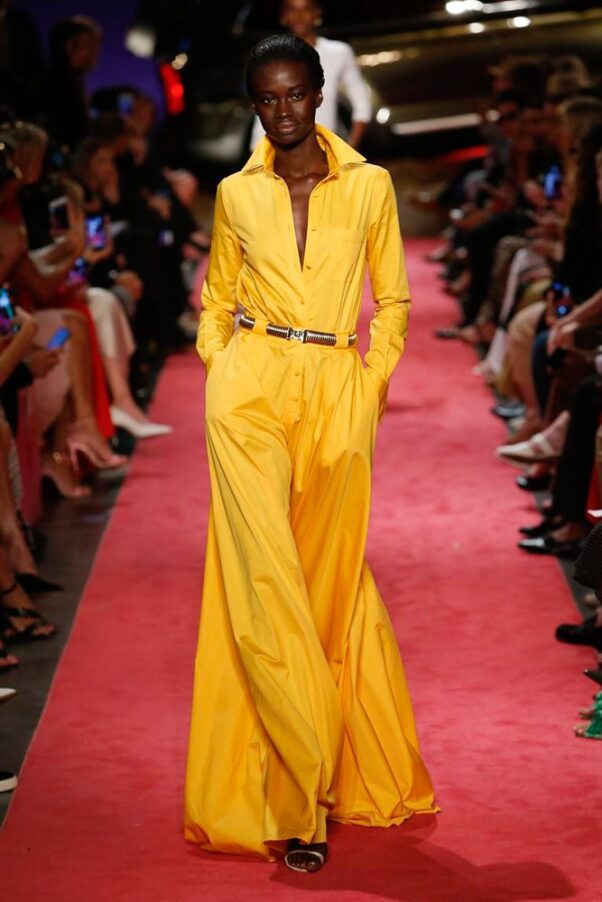 Brandon Maxwell, Photo By: Monica Feudi / Indigital.tv
So far, with New York Fashion Week wrapping up and London Fashion Week being underway we've seen the emergence of some interesting trends including; Printed Headscarves courtesy of Michael Kors, Laquan Smith and Kate Spade; Tie-Dye showcased by Prabal Gutung, Tome and Eckhaus Latta as well as statement Canary Yellow pieces as seen in the Brandon Maxwell, Oscar de la Renta and Pyer Moss shows.
Speaking of Pyer Moss, the fresh-faced founder Kerby Jean-Raymond decided to make a statement at his show by creating a $125 sweater branded with the demand 'Stop calling 911 on the culture'. Now this is by no means the first time we've seen the runway become a political stage, even for Jean-Raymond who intertwined Fashion with Activism for his Spring 2016 Menswear though the medium videos, music and posters with quotes from Black Lives Matter activist MarShawn McCarrel. 
What this is, is the first time we've seen a direct call to action against modern instances of violence against ethnic minorities – in particular Black people, in the form of hoax and extraneous calls to the authorities. Despite there being many quibbles about the wording of Jean-Raymond's slogan tee as well as the associated price tag one thing that can't be denied is that a standpoint was made, and a message that often gets ignored by mainstream media was delivered on a global stage.
Slogan tees are just one of the many ways that brands have chosen to deliver messages about the current state of race relations, yet one of the most visible ways of delivering this message is through a designer's choice of models. Whilst you may be thinking that model selection is essentially 'not that deep' the representation or lack thereof of a particular sub-group on a mass platform like fashion week has a strong impact on said individuals. In the 1903 book 'The Soul of Black Folk', W.E.B. Du Bois discusses "the veil of racism" and amongst many things, the veil is symbolic of the way Black people are prevented from seeing themselves as they really are, outside of the negative vision of Blackness created by racism and exclusion. This theory is backed up by results from Implicit Association Tests which reveal that black people are more likely to associate fellow Black people with negative and unfavourable characteristics. So, why do these results occur and what does this all have to do with fashion? Well according to researchers, witnessing the continued underrepresentation of one's ethic group causes group members to feel devalued within society and in turn, can negatively impact upon their self-worth. This is why representation on mainstream platforms like the New York, London, Paris and Milan runways is so important as seeing ethnic minority individuals hailed as symbols of prominence and beauty will serve to strengthen the self-image of all ethnic minorities.
It's too soon for stats for Spring 2019 but if last season's diversity report is anything to go by then the future is looking bright.  The Fashion Spot's statistics indicated that the Fall 2018 shows were the most diverse to date. In New York 37.3 percent of models were non-white. In London, 30.03 per cent of models at London Fashion week were non-white, a 3.6 per cent increase from the season prior with similar increases being reported at both Paris and Milan.
According to psychologists Taylor and Lee, "examining how minority groups are portrayed in media can provide information of how a minority group is viewed by society at large". The impact of fashion is often downplayed but if the research is anything to go by the more we become witness to positive representations of minorities through the likes of models like Slick Woods, Naomi Chin Wing, Duckie Thot and Adut Akech the closer we can get to lifting the veil of racism and seeing not only ourselves but each other in a better light.
Our main goal at The Psychology of Fashion Blog™ is to provide interesting and informative research on all things Fashion Psychology. Help us to continue to provide this free service by giving a small donation. Thank you for your continued support