Lingerie began its modern inception as the frilly undergarment for the purposes of being appealing in the late 19th Century. Since then it has become a roughly $15 billion dollar industry. But why are corsets and lace panties such a touchy subject while also feeling like such a natural extension of femininity?
Many women share conflicting emotions when it comes to wearing and even buying lingerie. In the study "'You do act differently when you're in it': lingerie and femininity", Rachel Wood conducted 16 in-depth interviews with a broad range of women concerning their thoughts on lingerie. Whilst there was never a homogeneous answer, the study exposed some of the excitement and insecurities that women feel when slipping into a pair of stockings.
Let's start with one of the deepest questions. Why does one wear lingerie? Is it for their lover or for themselves? Many women feel unsure as to what the "point" of lingerie is supposed to be. Some argue that they experience a newfound confidence from putting on a show. Others note that they're aiming to arouse the roaring desire from their partner. It seems it could be a little of both. Many women claimed that they experienced a thrill from just the thought and preparation that went into looking different (a testament to foreplay!). Others seemed nervous about the idea of being judged in a single "wow" moment that came with their big reveal. Although all the answers come in a spectrum, generally it feels as though there are two separate camps.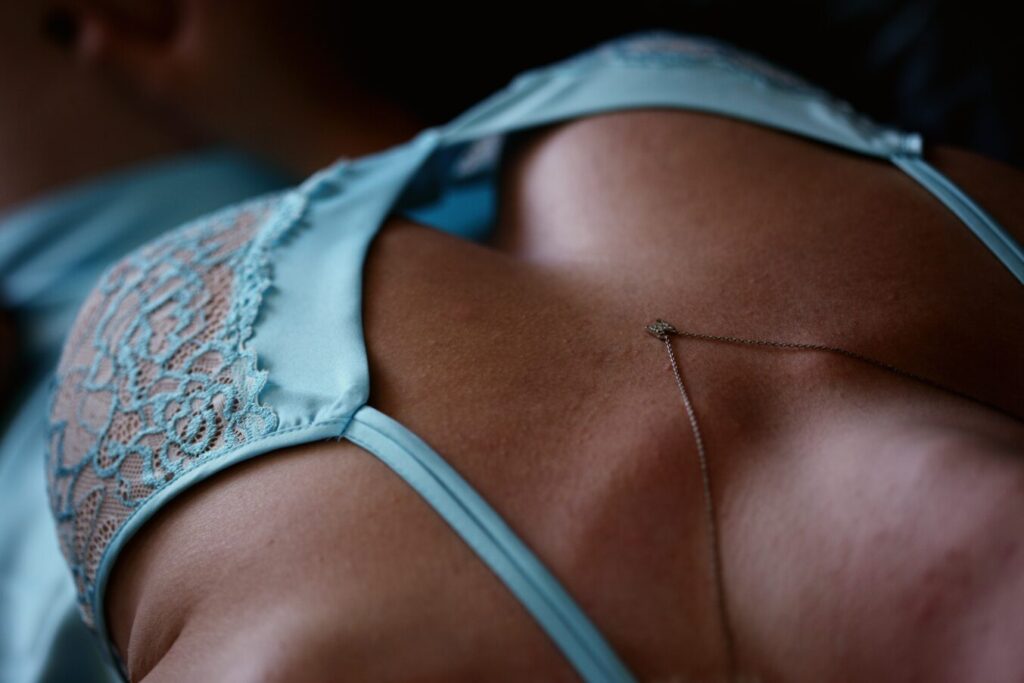 From a birds eye view, we can see lingerie as a way for a woman to leave her comfort zone and become something different. One of the most profound quotes from the study was about how, "Bodies then can be thought not as objects, upon which culture writes meanings, but as events that are continually in the process of becoming". This notion of the body being an event is interesting. It makes the idea of wearing lingerie less of a game of dress up and more of an experience of the body itself. All clothing can be thought of this way but lingerie is explicitly sexual. The intricate outfits and eye-catching straps are intended to exemplify the body underneath. After their big reveal, many women said they had to keep their partner from tearing their outfit off in order to get their "moneys worth". It's not about you in the outfit, it's about you.
Regardless of a woman's personal feelings on lingerie there is no doubt a cultural stigma that exists around buying it. When the women in the study were asked what they were looking for in lingerie, often the only requirement was that it was, "nice". Stereotypical "stripper outfits" were often thrown out as options (not that there's anything wrong with roleplay). I think that this outlines the sort of "all seeing eye" we can feel from our culture on the expression of a woman's body. We want to be tasteful but at the same time we don't want to feel confined. Going to a boutique and speaking to an employee can be intimidating in such a sensitive process. This could be why online lingerie stores such as Yandy are seeing a boom. It's interesting to see how the more private matter of wearing lingerie has this almost necessary public aspect in buying it that deters some women. No comments really, just some food for thought.
It still feels as though we haven't reached anything conclusive. Lingerie remains mysterious. It's no wonder though, it's an expression of sexuality. If sex itself were simple to understand then it wouldn't be so desirable. It's the tension and uncertainty that makes it exciting. It's the difference between eating plain yogurt and eating red velvet cake. One is rich and complex and the other is…yogurt. Lingerie evokes emotion and directly addresses identity and the body while remaining passive. It's a form of self-expression that can be seen to break new boundaries for women. It's ok if you wear it and it's ok if you don't. Some people like certain pairs of jeans. It's a continued discussion in displays of sexuality for women and it won't go away anytime soon.
Our main goal at The Psychology of Fashion Blog(TM) is to provide interesting and informative research on all things Fashion Psychology. Help us to continue to provide this free service by giving a small donation. Thank you for your continued support!