Operating beauty halls filled with hundreds of perfumes can be quite the task but lucky for you, in part 3 of our Psychology of Scents series we've curated a collection of our current favourite fragrances and used psychological research to suggest what type of person, or occasion, each is likely to suit.
When selecting a perfume, it is particularly important to consider the 'notes' that comprise a fragrance. Top notes are those which you smell immediately after applying the perfume to the skin. As these wear off, the heart notes are revealed. Finally, the base notes are the scents that linger; the ones which will stay with you throughout the day. This is why it is its always a good idea to try a fragrance before you buy it and we suggest that you give these 5 a go!
1. Charlotte Tilbury: Scent of a Dream

RRP: £68 (50ml, also available in 30ml and 100ml)
Top notes: Lemon, Peach, Black Pepper
Heart notes: Jasmine, Frankincense, Tuberose and Violet
Base notes: Fire Tree, Iso E Super, Patchouli and Ambroxan
With the aim to bring joy, love and power to each of its wearers, Scent of a Dream is the perfect day-to-night fragrance. The immediate fruitiness of lemon and peach is inviting and invigorating, to encourage a sense of inner confidence. Floral heart notes of jasmine, frankincense, tuberose and violet develop over the next five hours, to create an elegant and gracious aroma throughout the day. As the evening arises, the rich, warm base notes are activated to portray a seductive power.
2. Tom Ford: Rose Prick
RRP: £218 (50ml, also available in 100ml)
Top notes: Sichuan Pepper, Turmeric
Heart notes: May rose, Turkish Rose, Bulgarian Rose
Base notes: Patchouli, Tonka Bean
A modern twist on the classic floral scent, Tom Ford combines the elegant odour of a trio of roses with spicy notes of pepper and turmeric and a musky base of patchouli and tonka bean to create an elegant fragrance with a sharp yet warm edge. This delicate yet daring combination portrays an individual to be feminine in style and fair but focussed in nature.
3. Jo Loves: White Rose & Lemon Leaves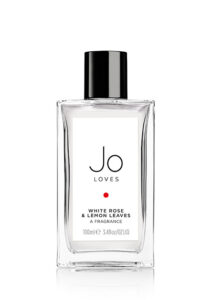 Jo Loves: White Rose & Lemon Leaves
RRP: £70 (50ml, also available in 100ml)
Top notes: Lemon Peel, Petit Grain, Pink Pepper
Heart notes: White Rose Oil, Geranium Leaves, Muguet, Violet
Base notes: Rose Absolute, Clove Buds, Honey, Amber
Inspired by the white roses' ability to "represent love and celebration and bring back some of life's most treasured and memorable moments", this fresh and floral fragrance is one to wear on an occasion you want to remember. A classical and calming heart of white rose is balanced between the uplifting lemon peel and subtle sweet honey and clove to create a scent that will endure for years to come.
Buy White Rose & Lemon Leaves here
4. Jo Malone: Lime Basil & Mandarin

RRP: £69 (50ml, also available in 30ml and 100ml)
Top notes: Mandarin
Heart notes: Basil
Base notes: Amberwood
Described as "peppery basil and aromatic white thyme bring an unexpected twist to the scent of limes on a Caribbean breeze", Jo Malone's Lime Basil and Mandarin is our go-to summer scent. The sweet, zesty scent of lime and mandarin awakens the senses to provide that instant feel-good factor. As it settles on the skin, a herbaceous undertone is revealed to leave a fresh and light finish.
Buy Lime Basil & Mandarin here
5. Angela Flanders: Xanadu Eau de Parfum
RRP: £79 (50ml)
Top notes: Bergamot, Brazilian Orange
Heart notes: Spices, Resins, Woods
Base notes: Patchouli, Rosewood, Cedarwood
The citrusy scents of bergamot and orange lie on a warm bed of wood and spice to create an enchanting and romantic fragrance. Xanadu Eau de Parfum is a long-lasting unisex perfume, perfect for cosy nights and more formal occasions.