Many stylists will tell you that vertical stripes have a slimming effect. Scientific research has proven this assumption to be false.
"Shakaila you really should wear vertical instead of horizontal stripes, you already have large breasts".
I've received many a criticism in my 24 years of life but this one stuck with me ever since I heard it from a well-meaning colleague about 4 years ago. At the time, I never really realised the true extent of my love of stripes. Half of my wardrobe consisted of some sort of striped pattern – strangely most of them horizontal. Would I have to part with my penchant for the simple and elegant pattern because it made me look disproportionally large? I finally ended this rather nonessential period of contemplation upon discovering that the demonization of horizontal stripes is nothing but an old wife's tale.
It's a commonly held belief that when it comes to clothing, horizontal stripes have a widening effect. If you have a larger bottom half, stylists such as TV Personality Gok Wan recommend that a horizontal striped top will help to "balance you out" by broadening your chest to match.
Pear shape girls. Horizontal stripes upstairs will help balance you out. pic.twitter.com/7Vsl7rgSIP

— Gok Wan MBE 🌈 (@therealgokwan) April 5, 2016
However, research suggests that horizontal stripes have the complete opposite effect. In 1925, Hermann von Helmholtz created the Helmholtz illusion. He composed an image with two squares containing equally spaced stripes – one with vertical stripes and the other, horizontal. As shown in the image below, the square containing horizontal lines appears taller and narrower than the identical square made up of vertical lines. This illusion occurs because horizontal stripes have more "filled space" from top to bottom thus making it look taller and thinner than the same-sized square.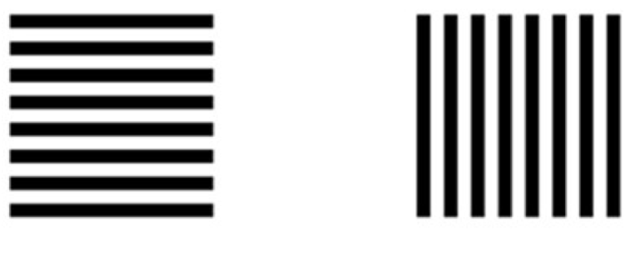 Moreover, research has found that the illusion holds when applied to the body. A 2011 study found that when participants observed pictures of identical mannequins wearing horizontal and vertical striped clothing, the mannequin wearing horizontal stripes "needed to be 10.7% broader to be perceived as identical to the one in vertical stripes" (Thompson & Mikellidou).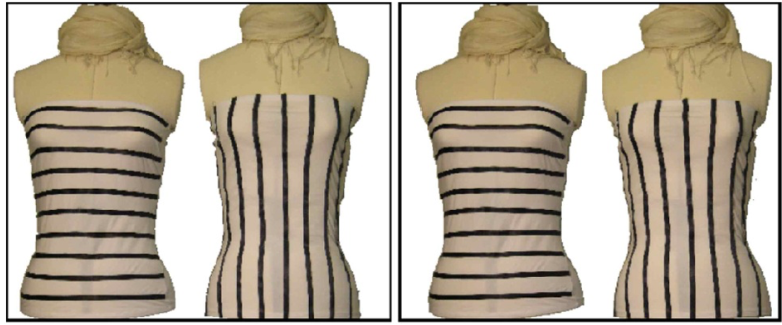 Given the near century old history of the Helmholtz illusion it's unclear how the 'Horizontal lines make you look fat' trope has managed to gain such a reputation.
Styling is as much of an art form as it is a science so before you cast out a portion of your wardrobe – check the data.